Tour Three. Global Connection
Made in Finland
Ever realize how much an object reflects the mind of its creator? Next time you look at something new, try to guess from its shape, color or texture whether the artist who made it was shy or bold, northern or southern. You may get a sense of how the artist views the world.
Think about homes, for example. Homes often tell you a great deal about the values and lifestyles of their inhabitants. People build very different kinds of houses in different parts of the world. When you build a home in
Finland, you have to factor in the cold and darkness of winter, as well as the summer's warmth and sunshine. You will want triple windows — and many of them — to keep out the cold and let in as much light as possible during the
long dark winter.
Using lots of wood suggests being close to nature and being in harmony with the environment. If you remember how much of Finland is covered in forests — it's 3/4ths, in case you don't — you won't be surprised to learn that Finns love working with wood. In addition to traditional Finnish pine and birch, Finns also use rarer woods like mountain ash and alder to make furniture. Companies like Timberjack and Valmet build multipurpose forest machinery designed to preserve the environment.
Interaction between light and space is a key element of Finnish architecture. The Embassy of Finland in Washington, D.C. has glass walls and ceilings. It is a perfect showcase of both modern architecture and Finnish culture. Transparency is not only a quality of materials and objects; it is also an important attitude in Finnish society.
Did you know that Finland is ranked, year after year, as the least corrupt country in the world? Maybe glass is good for you!
The Finnish architect Alvar Aalto (1898-1976) and his wife Aino were very good at creating comfortable and easy-to-use furniture and glassware that were also unique and beautiful. They created a lifestyle and a look that is now world-famous. Alvar and Aino Aalto are called Functionalists.
Alvar Aalto also designed buildings. In the United States, Aalto's buildings include the Finnish Pavilion in New York City, the Baker Dormitory in Cambridge, and the Mount Angel Library in Oregon.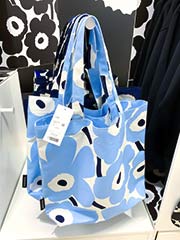 Another famous Finnish architect, Eero Saarinen, designed Dulles International Airport outside of Washington, D.C.
Finland's influence on style, color and design can be seen all over America. Perhaps that is why Marimekko, the famous Finnish design house that Jacqueline Kennedy Onassis loved, has long been known for its bold fabrics and patterns. Or why Fiskars has had such success with its orange-handled scissors, now available in most supermarkets.
Finland is a tried-and-true information society. People have easy access to data through high-tech devices. Design has even penetrated the high-tech world. Something as private and intimate as a cell phone, for example, has to have character. The colors and shapes of cell phones often offer subtle information about their owners. The newest and most expensive phones act like jewelry or carefully-picked fashion accessories, enhancing their owner's image.
Quiz
Jacqueline Kennedy loved
Finnish saunas
designs by Marimekko
scissors from Fiskars
timber machines
2. Eero Saarinen designed
the Embassy of Finland in Washington, D.C.
the Finnish Pavilion in NYC
Dulles International Airport outside Washington D.C.
the Mount Angel Library in Oregon
3. Alvar and Aino Aalto are known as
Pointillists
Pragmatists
Dadaists
Functionalists
4. What elements are often used in Finnish design?
metal and straw
plastic and high quality fabric
wood and glass
foam and cardboard